Cauliflower trending
Health Guru combines functional nutrition and indulgence. Inspired by incorporating more vegetables into the average diet, founders Sarah and Don crafted a tasty, innovative solution. Their research suggested an increasing number of consumers replacing meals with healthy snacks. In 2020, puff-based products increased by 17.06% in the natural segment and 8.33% in the conventional.*
Moreover, Cauliflower reported the highest market growth per SKU in the crackers category for the natural channel and the third highest growth in salty snacks.* So became Health Guru Cauliflower Puffs.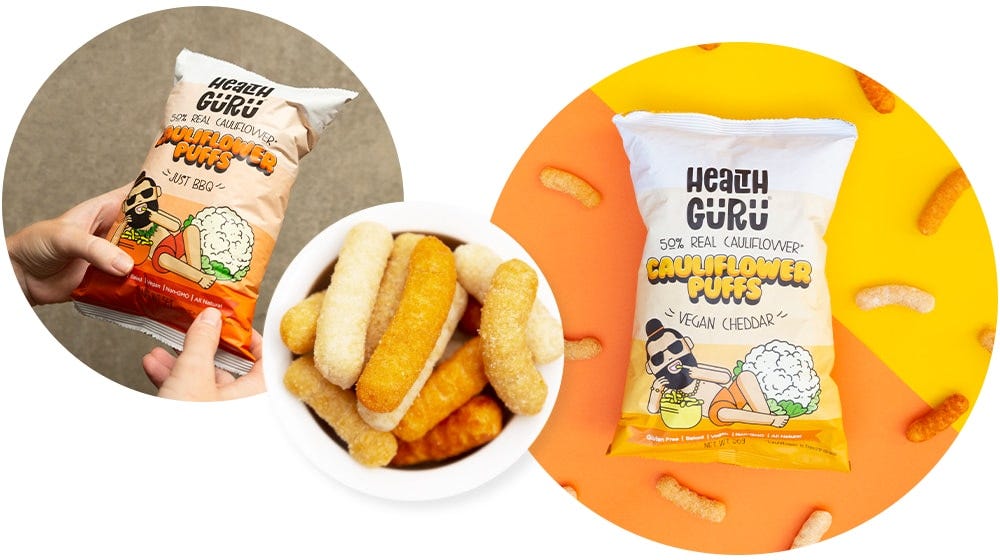 Health Guru Cauliflower Puffs is a plant-based, savoury, baked snack, not fried. Functional, delicious, and nutritious, these snacks contain no nasties and a serving of veggies with an uncompromising taste. Pure, freeze-dried cauliflower is the hero ingredient, retaining the natural sweetness and nutrients. The five flavours include sea salt, salt & vinegar with apple cider, just BBQ, Bangkok sriracha and vegan cheddar.
The seismic segment growth is unsurprising as 3 in 5 Australians opt for healthier foods. Further, self-consumption snacks have grown 40% in major grocery since last year.*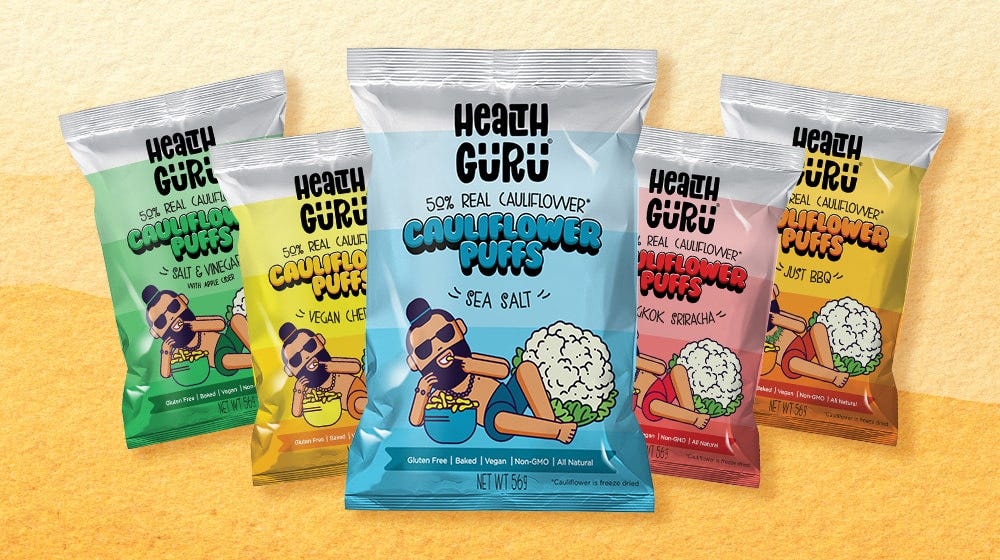 The puffs are lower carb, packed with 100% natural ingredients and free from gluten, dairy, egg, GMOs, refined sugar, and trans-fat. Additionally, cauliflower is naturally high in fibre, B6, potassium and folate. Unlike the leading market competitors, Health Guru maintains a strong brand identity and transparency in its pricing and ingredients. The standout packaging illustrates key health attributes, including more nutritional value per serve.
Cauliflower Puffs are a healthier, tasty grab n' go snack for conscious consumers. Health Guru has established recognition and loyalty from national retail coverage; influence, distinct shelf appeal and aesthetic packaging offer an opportune impulse sale in convenience outlets.
Health Guru is committed to influencing positive choices for health and wellness with ready-to-eat lunchbox snacks.
Capitalise on cauli
Order online or via our sales team at 1800 787 904. Alternatively, register for a wholesale account here.
*Spins Data, 2020; Grocery scan data MAT YOY $ 16/5/23 AU.
Riced, powdered, blended, roasted as a 'steak' or completely transformed into a vegan-friendly creamy sauce, grain-free pasta or crispy pizza base. Is there anything the humble cauliflower can't do?!
It seems that one of the most detested veggies of our childhoods has managed to sneak its way into practically everything, and today's health-conscious consumers are obsessed.
Industry growth
The rise of cauliflower coincides with a shift towards healthier snacking. The way people eat is changing; now, 64% of people say that they prefer to eat many small meals in a day rather than the traditional breakfast, lunch and dinner.*
Consumers are turning to cauliflower because of its low carbohydrate nutrient profile, mild flavour and versatility. Cauliflower-containing recipes have spread like crazy across social media, appearing in everything from muffins and cakes to gnocchi, pizza and "Mac N' Cheese" inspired casseroles!
Consumers love cauliflower
Experts are attributing the rise in cauli-love to a broader increased interest in low carb, keto and paleo diets. As well as an increased awareness about the health benefits of vegetables and the desire to eat more of them, especially those following flexitarian, vegan, gluten free and plant-based diets.
Clever manufacturers are capitalising on the popularity and adding the element of convenience for a winning combination that pleases a wide range of consumers.
The increased innovation in packaged cauliflower products also provides exciting new options for parents in the never-ending battle to get their kids to eat more vegetables!
Cauliflower - a game changing snack
Health Guru Cauliflower Puffs are a guilt-free indulgence with 50% freeze-dried cauliflower. Vegan and gluten free, the baked snacks are free from trans fat and refined sugar. The Cauliflower Puffs are available in five delicious flavours:
Sea Salt
Salt & Vinegar with Apple Cider
Just BBQ
Bangkok Sriracha
Vegan Cheddar
With quality ingredients and a strong brand identity, these stand out on shelves.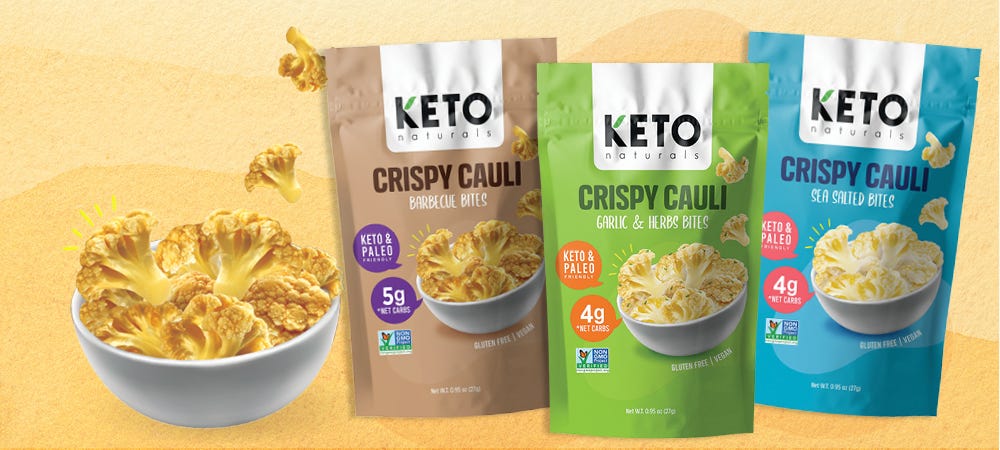 Right on trend, Keto Naturals has a range of Crispy Cauli Bites that are keto and paleo friendly, gluten free and vegan. They're non-GMO, have 5g net carbs and come in 8-pack, shelf-ready CDUs. Flavours include:
Barbecue

Garlic & Herb

Sea Salted
Each pack contains a full head of cauliflower and is slow-cooked using a simple list of clean ingredients without any fillers or artificial flavours.
Capitalise on cauli
With the cauliflower trend on the rise, these products, along with many more healthy snack brands, are available to order wholesale via our online store or by giving our friendly sales team a call on 1800 787 904. Not yet registered with us? You can sign up here.
Source: Mondelez, 2021.