Looking back on 25 years
Proudly Australian-run and privately owned, Unique stands the test of time and maintains its position as Australia's most trusted nationwide natural product distributor.
Most of us strive for a goal post far into the future without acknowledging the milestones and journeys we've conquered to get us to where we are today.
So to celebrate the incredible achievement of reaching 25 years in business, our Founder, Dale Parkes, has taken a moment to reflect and offer you an insider view of the previous 25 years, revealing humble beginnings, the guarana-powered kickstart and a glimpse at just some of the wonderful people that have helped shape the enviable culture that makes Unique the thriving business it is today.
The origin story
It was January 1996, Spice Girls were number one on the charts with 'Wannabe', Independence Day was the top movie, Oprah started her famous book club, and a 'Twitter' was the little chirping sound a bird would make. Google's search tool started indexing the web, and we all still hired new-release movies from Blockbuster.
My eldest daughter Harmony was 11, while Bhima and Sage were 9. Although the previous ten years had been spent opening and then managing Organic Oasis (now Kunara), January 1996 saw me as an out-of-work 36-year-old struggling to support a family on government benefits.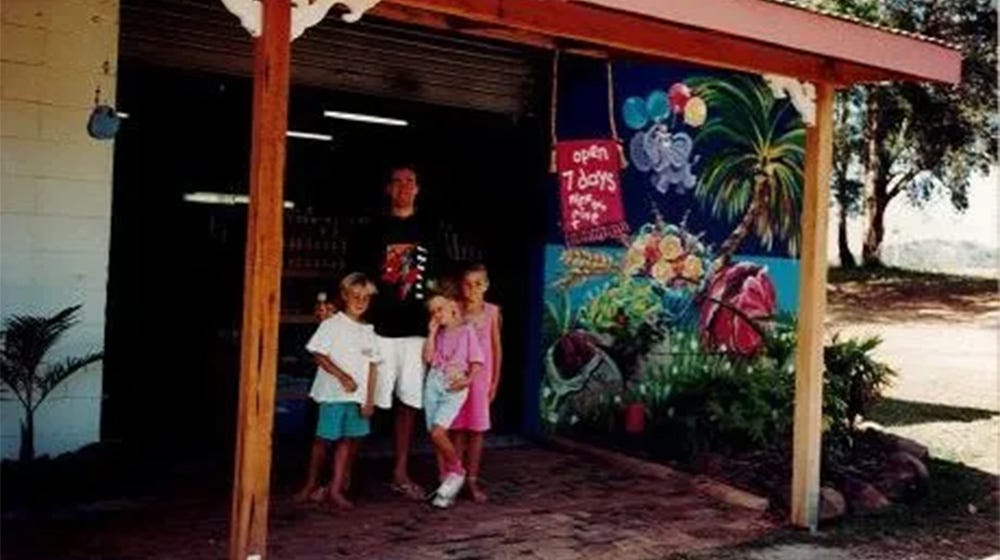 'Sensational food distributors'
Randomly, I called a buddy from Sydney who worked in a health food store, asking if he knew of any new products he could see emerging into the market down there. He said this liquid guarana product was selling like crazy on the counter. All-night rage dance parties were the go in the mid-90s, and word had gotten around that guarana was a natural stimulant that kept you awake.
Knowing it was not yet for sale in Queensland, I called the producer of Rage 2000, Benjamin Duncan, and he agreed to sell me the first order. Awesome!!! Small problem, though. We lived from week to week, and I didn't have any money to pay for it.
Enter my friend Michael, a truly generous soul, who lent me $2000 to get started. I also convinced ANZ to lend me money to buy an old Mitsubishi van. I bought an invoice book (the one with a piece of carbon between the pages), and "Sensational Food Distributors" was born.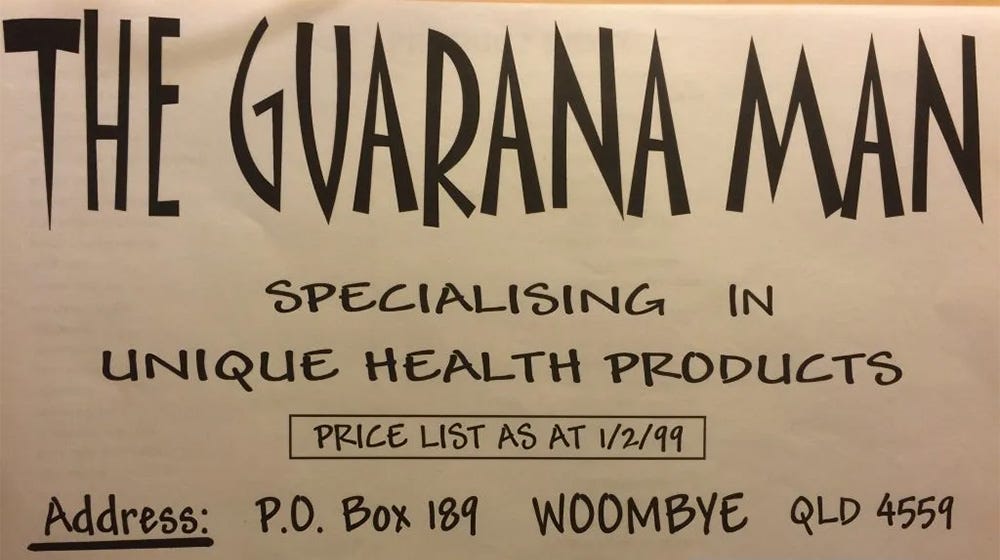 The Guarana Man
Over the next month, I drove from Cairns to the Gold Coast, selling a box of 12 guarana shots to almost every health food store I visited. I put all the takings back into the business, and we continued to live as frugally as we had. Because the stores all paid me cash upfront (or cheque), funds accumulated quickly enough to afford the next PO. And just like that, we were away.
The table tennis shed was converted to a storage room for the guarana shots, and I paid for a PO box at Woombye Post Office for the postal orders (yes, postal orders). The "business" phone number was our home landline, and the kids often answered calls from health store customers. It went a bit like this…. "Hello. Oh ok, I'll go get Dad. D-A-A-A-A-D, PHONE".
Our customer service has come a long way since those fun times. After a few months, I changed the business name to "The Guarana Man" since it was all I had sold. By the time Michael was paid back (within 12 months), I had added 4 or 5 more products to the range that Benjamin produced (Smilax Sarsaparilla and Gay Nun cordials) plus a guarana capsule called Guarana 2000.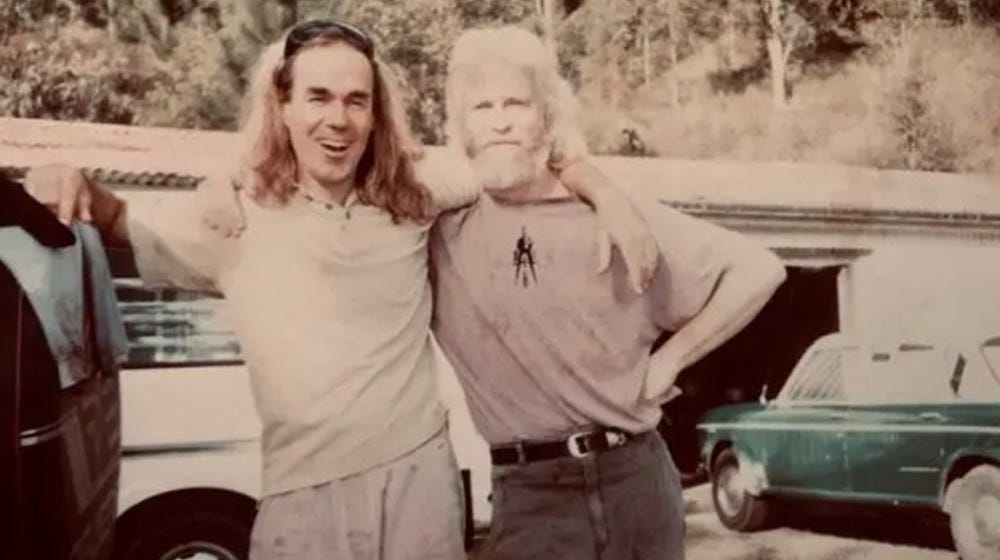 Unique Health Products
Over the next three years, I approached several more suppliers who agreed to use this enthusiastic new Queensland company to distribute their products. These include industry leaders like Kosmea Rosehip Oil and Swisse Vitamins, plus some fledgling start-ups like Byron Chai and Alchemy Sodas.
By then, I was so flat out and needed help answering phones and packing orders while delivering, so I employed an old friend called Annie. We bought a fax machine linked to the home phone (so you'd hear the "fax sound" when you picked up to answer the phone and have to push OK for it to come through). Annie's daughter Susie and hubby Russell eventually joined the team, and I took a holiday after three years of working 90+ hours, seven days a week.
Truth be known, guarana now formed only a small part of what we sold, so there was a need for a name change. But to what? With such a diverse range, I tell retailers we "specialise in unique health products". There it was. And so, in late 1999, Unique Health Products was born.
The iconic catalogue
In subsequent years, I drove to Brisbane, Gold Coast and Byron every week, using the big heavy album displaying photos of all our products to take orders from the stores. I'd often ask the retailer if it was ok to fax the order through to the office to speed up delivery while I was in the store.
As Unique grew, I sometimes got home from the Byron run at midnight and had a few scary moments closing my eyes at the wheel that made me realise I was pushing it to the limit. We started using Fastway and I employed a sales rep to do the Byron run and another to help with Brisbane.
Same formula - show the products in their photo album, taste and try samples, write down product codes, and fax the order through.
One day, a retailer, as they were flicking through the photo album placing an order with me, said, "Can you leave this behind one day? I always forget what I buy from you". So circa 2007, the idea to produce a catalogue with product photos was born.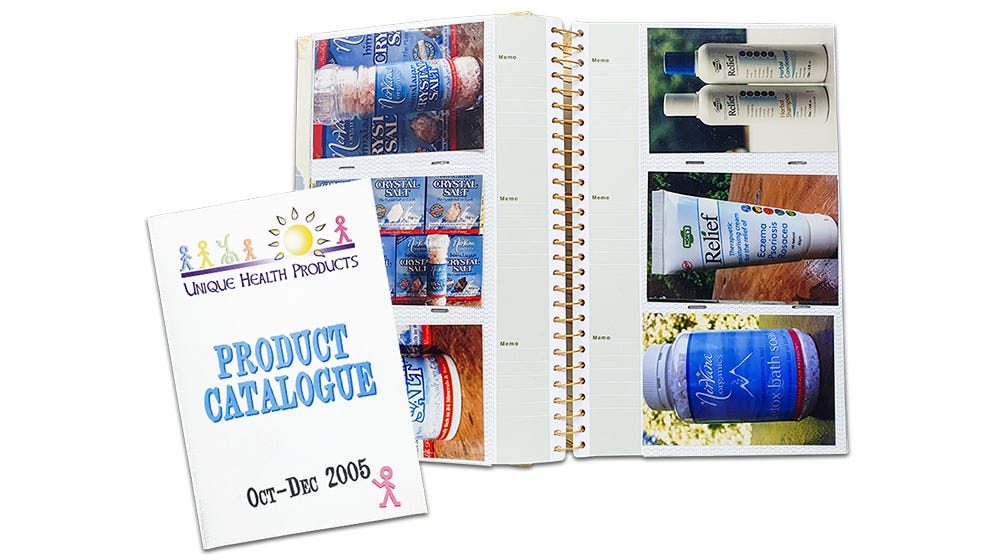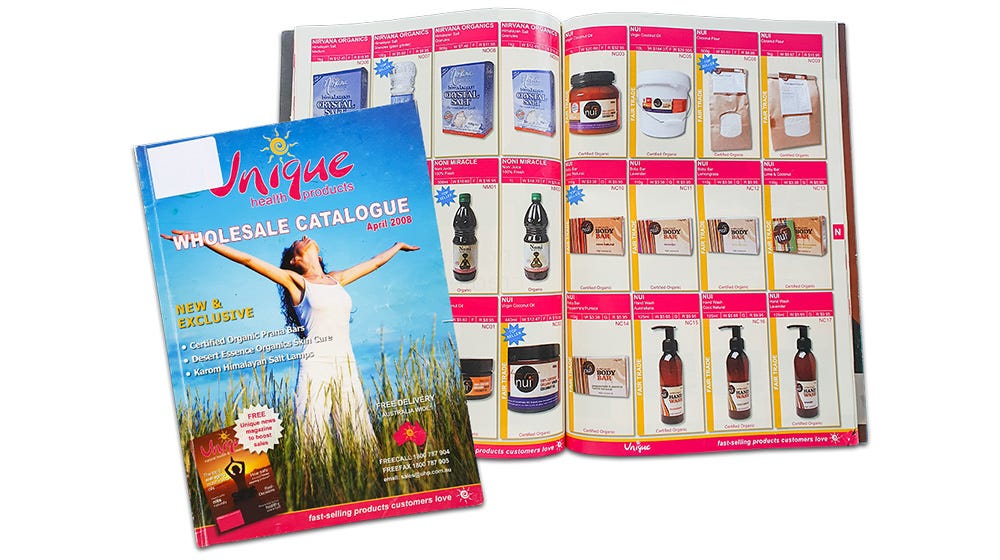 Building culture
Fast forward to 2021, and we are still regarded by retailers in the industry as the company with the,
Best customer service
Easiest webshop to place orders
Highest in-stock level (currently a phenomenal 96% across 3,800 products)
and deliveries with virtually no mistakes or damage.
These days, leading brand suppliers approach us to partner with them and represent their brands to our national retailer base. Such is the strength of our reputation and standing within the industry.
The Unique team continues to grow and thrive, with more than 180 Uniquers on the team today. Unique is the biggest importer of natural products from the USA and is widely considered Australia's best (and probably biggest) independent wholesale distributor in the health food channel. Over the past 25 years, many wonderful souls have worked beside me along this amazing journey. One that I would never have possibly envisioned back in 1996. And when celebrating our people, we make sure we go all out!
One of our most iconic examples of Unique culture is when we farewelled one of our Uniquers, Pavel. He loved break dancing! So the entire team secretly practised a flash mob routine to surprise him on his last day.
Here's what happened.
I am forever grateful to all the special people who have imparted their unique gifts and thrown everything into building this very special business into what it is today. From the bottom of my extremely grateful heart, thank you for the vital part you played - Dale Parkes.
Friends of Unique
Over the years, the Unique team has had the pleasure of meeting a wide range of incredibly talented and aspirational people. From athletes and academics to musicians and pioneers in health.